Travel to Havana to have an incredible wedding in this enigmatic city, with a contagious rhythm, and a distinctive Caribbean flavour. Know its fabulous colonial palaces, residences and monumental buildings conjugating the belated baroque, deco and novou arts; architecture that speaks of splendour and greatness of the city through the times. CubaTopTravel will provide you all services you need to travel to Cuba and have an incredible experience at very reasonable prices.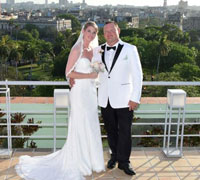 Beautiful places to make your Wedding in Havana
Hotel Nacional de Cuba, 5* hotel, with beautiful gardens and Halls with a magnifiscent view over the Havana Harbour.
Hotel Santa Isabel, 5* hotel at Plaza de Armas at the heart of Old Havana.
Hotel Saratoga, 5* hotel newly built in Old Havana in front of the Capitol building, probably finest hotel in Havana right now.
Hotel NH Parque Central, 5* in Old Havana.
National Capitol of Cuba located in Old Havana, with its beautiful halls.
Florida boutique hotel in Old Havana
Hotel Ambos Mundos, Hotel in Old Havana (preferred hotel of US Nobel Prize writer Ernest Hemingway).
Hotel Conde de Villanueva, a boutique hotel, the hostal of the Cuban cigar, in Old Havana.
Hotel Raquel Boutique in Old Havana.
Hotel Sofitel Sevilla in Old Havana, with its superb Roof Garden restaurant from where you could have an astonishing view over Havana city.
Hotel Meliá Cohiba, 5* in Vedado neighbourhood.
SHotel Havana Libre Tryp, 5***** (former Hilton Hotel) in Vedado.
Hotel Meliá Havana, 5*****, in Miramar neighbourhood.
Cathedral of Havana.
Church of Reina.
Hotel Presidente in Vedado.
Hotel O´Farril, a boutique hotel in Old Havana.
Hotel Occidental Miramar, 4* in the Miramar area.
Hotel Panorama, 4* in the Miramar area.
Giraldilla complex, restaurant area and dance halls, in Siboney west of the city.
Pedregal Restaurant in Siboney neighbourhood.
La Estancia in Siboney.
Rancho Palco Restaurant in Siboney.
Japanese Restaurant in Havana´s Botanical Gardens.
Club Havana, private club across the beach in the western part of the city.
Protocol residences in the most beautiful neighbourhoods of Siboney and Cubanacán west of Havana.
Napoleonic Museum in Vedado.
Gardens of the 1830 Restaurant in Vedado (across from the Malecon Seaside Drive).
These are only a limited example of the special environments and places where you could perform the wedding's ceremony and also to organize the reception, party and banquets; in any format for any number of guests; fit for your tastes and interests and of course your budget possibilities.
Service Tariffs



Notary services
850.00 USD
Church services
Starting at 400.00 USD
Rental of halls, areas, gardens
Starting at 300.00 USD
Parties, banquets, buffets with 3 drinks included
Starting at 25.00 USD per person
Other Available Services



Rent of Lounges, Gardens, Patios or pools including the audio and audiovisual media if they were required as well as the technicians to attend them.
Reservations for Ballet, Musical, Theater, Night Clubs, Restaurants.
Service of alcoholic and non-alcoholic drinks, as well as Open Bar.
Car rental.
Rent of Bus.
Rent of Limousines.
Car Rental with Driver.
Old American Car Rental.
Rental of Horse drawn carriages.
Car rental.
Coco Taxis Rental.
Reception and Farewell at the Airport.
VIP Lounge reception.
Local decoration.
Organization of holidays.
Hiring of Musical Groups of various formats.
Hotel Reservation.
Tours and Excursions.
Domestic and International flights.
Buffet service, gourmet dinner, entremés.
Yacht Reservations.
Diving and Snorkeling.
Fishing.
Golf.
WE GUARANTEE AN EMPLOYED AND PROFESSIONAL SERVICE. CONSULT US.