Flag: The Cuban flag was designed by poet Miguel Teurbe Tolón at the request of General Narciso López, patriot and fighter of the country's independence against Spanish colonialism. The flag is waved for the first time on May 19th, 1850 in the city of Cardenas by a group of rebels that rose up in arms against the Spanish colonialists. The Cuban flag has three colors: blue,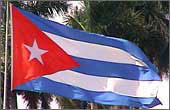 red and white and the elements that make up the flag are three blue stripes, representing three departments, West, Central and East, that divided the island in 1849; while the two white stripes means the pureness and justice of the independence fighters. The triangle represents that values of "liberty, equality and fraternity" and the red of the triangle represents the blood shed by the Cuban people in the independence wars. The one star represents Freedom.
Coat of Arms: The coat of arms includes an oval ogival, whose superior is a gold key that symbolizes Cuba's entrance between the Americas, and the Gulf of Mexico. The rising sun represents the creation of a new nation.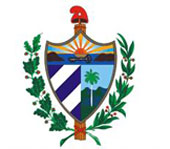 The bottom left has blue and white stripes symbolizing Cuba's five departments dividing the island during the colonial period. While the bottom left represents the Royal Palm (firmness of the Cuban people), the mountains and beautiful blue sky representing the island's typical scenery. The stand is crowned by the Phrygian cap that has a sole star. The stand symbolizes the unity of the Cuban people; the star, the maximum expression of liberty. The brand symbolizes peace; and the laurel wreath means victory.
Tree: Cuba's National Tree is the Royal Palm.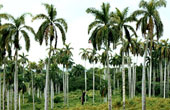 The tree species that predominates on the island is the palm with endemic species on the island. It is a tall tree crowned by its beautiful leaves and with abundant presence in the Cuban countryside. Its fruit flourishes and grow during the whole year, of which are used as food for animals and its leaves are also used the Cuban campesinos in building their houses.